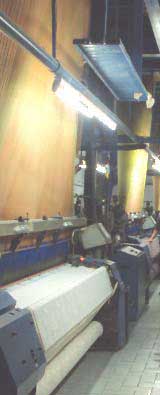 Pretreatment, Printing, Dyeing and Finishing
Union Exports is equipped with newly established printing and dying unit which has the most modern and sophisticated pretreatment, printing, dyeing and finishing equipment.
The printing unit is equipped with modern rotary machine capable of printing in 15 colors on fabrics as wide as 320 cm. A Repeat of 25.2", 32", 36" and 39.75" can be done.
The finishing section is equipped with a modern stenter capable of achieving perfect finishes. Final touches to the fabric are given on different calendars as per buyers' requirement.
We can achieve different finishes to suit the customer requirements like easy care, anti-bacterial and Aloe Vera both in knits and woven.